The movie has heightened demand for pink cowboy hats as well as pink cakes and coffee
Barbie has been a cultural phenomenon since she hit the shelves in 1959, but the new movie about the Mattel-designed doll has helped to usher in a new wave of interest in all things Barbie.
Margot Robbie, right, as Barbie, and Ryan Gosling, as Ken, in Greta Gerwig's "Barbie." Photo Credit / Warner Bros.
Time magazine states that when pictures of Margot Robbie as Barbie clad in an all-hot pink Western outfit were released, her look went viral on TikTok and sparked a 416 percent increase in searches for pink clothing.
Barbie-themed food and recipes are also trending – even though the dolls only pretend to eat in Barbieland. All types of businesses are boarding the Barbie bandwagon.
People magazine points to "Barbie hummus made of beets, Barbie tzatziki, Barbie whipped ricotta toast, Barbie dosas, Barbie dumplings, Barbie juice, and an extremely questionable Barbie mustard and cottage cheese," according to People magazine.
There are so many Barbie-influenced products, in fact, that Bon Appetit magazine has a story rating the food collaborations hitting the market, including Swoon's pink lemonade, Pinkberry's soft serve (pictured above) and Barbie pasta.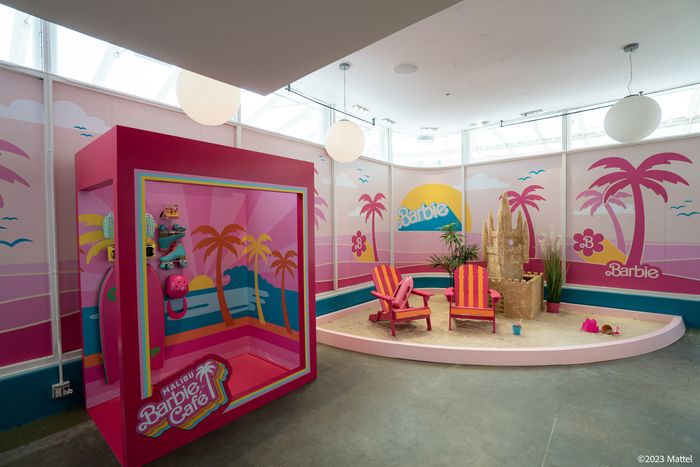 Photo credit: Malibu Barbie Cafe/Bucket Listers
If you're in the area, you can even go to a Malibu Barbie Cafe in New York City's seaport, open until Sept. 15.
Barbie themes are turning up everywhere – even Tallahassee. While the city isn't yet inundated with pink foods and fashion, there are signs of the movie's, and the doll's, influence.
Photo credit / Artistic Confections
Artistic Confections on Austin Davis Avenue, made Barbie cake pops – pink inside and out, decorated with a big B – in anticipation of the "Barbie" movie. The bakery also had requests for pink-iced sugar cookies, said the bakery's Heather D'Agostino. "People are still looking for Barbie-themed stuff," she said.
Photo credit / Tasty Pastry.
Tasty Pastry in the Northeast has been making Barbie cakes – using a Barbie doll for the top with icing for the skirt – for years, but there have been more requests for the cakes, strawberry-iced cakes and other pink treats for Barbie-themed parties.
A promo for the new Barbie and Oppenheimer movie-related coffee. There's a jolt! Photo / Argonaut
The August drink of the month for Argonaut Coffee is the "Barbenheimer," to coincide with the showing of both the "Barbie" and "Oppenheimer" films. The strawberry mocha concoction is being served at the cafe's new location at Goodwood Museum & Gardens. Museum & Gardens.
Argonaut puts it this way: "This clash of genres has excited moviegoers and produced some hilarious memes all across the Internet. We are adding to the hype with a latte that explores all the fruity, dark, sweet, and rich flavors the two films have to offer."
The Frother's Daughter mobile coffee shop created an iced pink strawberry, white mocha, and coconut latte topped with a cotton candy foam and Barbie inspired sprinkles. Photo credit / Frother's Daughter
Rosalyn Wilsey, owner of The Frother's Daughter mobile coffee shop, has also featured her own Barbie-themed drink, which I hope she brings back.
Social media is buzzing with ideas for a Barbie drink, part of "Starbucks Secret Menu." Recipes include a sweet frappuccino with vanilla, raspberry, and dragon fruit that all combine for a hot pink drink. You can ask your favorite Starbucks if they can make you one or conjure it up at home yourself.
You can work off these Barbie treats at Drip Drop Fitness on Third Avenue, which is presenting Barbie-themed cardio classes and a Happy Hour set to the "Barbie" movie soundtrack. Those are scheduled for Aug. 3, 11 and 13.
I just saw the Barbie movie on Sunday and I think it's a lot of fun, visually delightful. The cast is terrific.
I grew up loving Barbie and I was thrilled to get my first doll. I know there have always been critics of Barbie's voluptuous figure, and its effect on growing girls. Fortunately, I never made the connection. I never expected to look like a Barbie (though I was always fascinated with her wardrobe, especially the shoes).
I still have a few of my Barbie dolls including the original one (wearing a nurse's uniform instead of her iconic bathing suit), Midge, Skipper and Ken.
I grew up in a rowhouse in Philadelphia, and my friends and I would bring out our Barbies and clothes and play on the front stoop. Barbie fashions were pricey so my neighbor's mom, who I called Aunt Jean, made us clothes for our dolls. I cherished them then, and now.
Before I saw the movie, I got out my Barbie stuff, which I hadn't looked at in years.
I am happy that I still have several of my childhood Barbies, Midge, Barbie's sister Skipper and Ken (as for his, um, lack of anatomy. I was clueless).
For me, Barbie evokes memories of childhood, friendship, imagination and innocence. Not bad for a doll.