Visit farms, ranches, groves, apiaries and other agricultural destinations in North Central Florida and South Central Georgia
Michael Dorminy was working as a warehouse logistics manager in Tallahassee when the pandemic hit. At the time, he and his wife, Jena, were raising their four young children in the Lake Jackson area.
They had regularly visited the Tallahassee Farmers' Market and were inspired to raise some backyard chickens of their own.Soon, they wanted to take their goal for fresh food and country living to another level.
"We decided it was time to make a change," Michael said. "We dreamed of having some land. And we wanted the kids to have this lifestyle."
Olivia Dorminy, holding a baby turkey, with Great Pyrenees, Soleil, at her family's La Petite Ferme in Havana. Photo provided
That lifestyle is "in an environment where they understood the importance of the food that we eat, and the lives that those animals lived," Michael said.
To make that happen, Michael quit his job. Jena kept her position with the state Department of Revenue, working remotely. They sold their house, moved to Havana and became first-generation farmers.
"What's more local than gathering eggs from your own backyard?" Michael said.
A turkey from La Petite Ferme. Photo / Provided.
Now, the couple and their children are surrounded by turkeys, chickens, pigs, milk goats, sheep and the kids' pet rabbits on their six-acre farm, which they've dubbed La Petite Ferme (The Little Farm).
They sell their turkeys and chicken for meat and eggs, primarily through the Red Hills Small Farm Alliance online market. Their chicken guard dog, a Great Pyrenees named Soleil, helps guard the flocks. The birds are raised in shaded woods and on pasture lands, rotated seasonally.
"The chickens aren't cooped up in a warehouse," Michael said. "They can walk around being chickens."
You can get a chance to meet the Dorminys, those chickens and other animals while visiting La Petite Ferme during the 16th annual Farm Tour, being held Oct. 14-15. This is one of my favorite events of the year. I belong to the online market and frequent our farmers' markets but it's a wonderful experience to meet the people who grow our food and see how it's done.
During the free event, farms, ranches, apiaries and groves in North Central Florida and South Central Georgia will open their doors to the community.
This is the first farm tour for La Petite Ferme, among the 38 destinations on this year's tour.
"We'd like for people to find out about us," said Michael, who was born and raised in Belgium – hence the French names. "Customers can meet us face-to-face and see the place they're buying from."
The event is also an opportunity to find out what it takes to run a farm.
"Maybe they're a young family and have the same ambition we had," Michael said. "They can see how to farm on a small number of acres."
Ice cream and milk will be available at Cindale Farms & Southern Craft Creamery. Photo credit / Cindale Farms
Education and fun activities go hand in hand during the Farm Tour. Here are some of the many highlights. Be sure to check hours and days before mapping your route.
Learn about the historic tradition of making cane syrup at Tallahassee's Turkey Hill Farm.
U-Pick in a pumpkin patch and U-pick flowers at Moccasin Grove in Tallahassee. The farm, which offers varied U-Picks during the year, is a newcomer to the Farm Tour.
Find out about methods like aquaponics, hydroponics and raised beds to grow vegetables, flowers and fish at Bluefish Greenhouse Aquaponics, which has three, 3,000-square foot greenhouses in Cairo, Ga. Martin's Harvest is another place to learn about hydroponic farming and to check out their farm-to-table meals.
Visit a working dairy. Arrive at Cindale Farms in Marianna before noon to see the cows milked. Stop by their award-winning dairy, Southern Craft Creamery & Market, to try their ice cream and other farm-to-table products.
See how an organic farm works at the Artzi Organic Veggies/Pita Queen property in Thomasville. They'll be selling their vegetables, baked goods and terrific falafels.
Stop by the new facility to rescue livestock or farm animals, run by Redemptive Love Rescue. In some hardships, for instance, a farmer may buy animals they can't care for anymore. The rescue group is a separate organization from Redemptive Love Farm.
Get a tour of Johnston's Old-Fashioned Meat Market, the patron sponsor of 2023, and sample smoked meats and sandwiches.
Take a hay ride through the citrus groves at Florida-Georgia Citrus in Monticello.
Explore the organic farm and the store at Orchard Pond Organics. The farm will be doing all-you-can-pick zinnias and barbecue sandwiches will be for sale.
Learn more about small scale growing at Kiona and Chris Wagner's Rocky Soil Family Farm. Chris is a chef who will feature Cuban fare for $10 and $15 and there will also be sourdough (limited quantities on Saturday), cinnamon rolls and vegetables for purchase. Look for Chris' spätzle and breads on the Red Hills Online Market. 
Millstone Institute of Preservation, the Farm Tour host. Photo / Tallahassee Table
"The Farm Tour is a great family weekend," said Majken Peterzen, executive director of Millstone Institute for Preservation, which has been the Farm Tour host since 2016.
"Our quest is to get people to come out to meet the farmers and for the farmers to meet the people," Majken said. "Seeing how food is produced really encourages people to shop local."
The tour also helps farmers develop new markets, she said.
Louise Divine and husband Herman Holley, owners of Turkey Hill Farm, at the Tomato Feastival. Photo / Red Hills Small Farm Alliance
Like the Red Hills Small Farm Alliance and the Red Hills Online Market, the Farm Tour "enables the public to see that our farms, no matter the size, are a valuable and important resource," said Louise Devine, owner and operator of Turkey Hill Farm with husband Herman Holley. "It helps to connect the community with local farms and artisans."
She recalls the visit of a young man who said he was inspired to become a farm volunteer after going on a farm tour when he was a kid.
"Now he's in a phD program for soil science," Louise said.
Louise got the idea for a farm tour after coming across one during a trip to North Carolina in 2006.
"I thought this was awesome," Louise said. "I pitched the idea to New Leaf Market, and they said 'Let's do it.' "
New Leaf, which later closed, ran the tour for several years before Millstone took it over.
Louise, Herman and their son, Reuben, will be showcasing the historic tradition of making care syrup at their Turkey Hill Farm. Visitors can watch at least some of the day-long process, which she calls "an old-timey skill."
Chickens at Paradise Found Farms in Tallahassee. Photo / Schmoe Farm
Spreading knowledge about the numerous local talents among the region's farmers is good for everyone, said Kelly Cogswell, who owns Paradise Found Farms with his wife, Chris. This is the fourth year that Paradise Found Farms has participated in the tour.
Kelly was working in the automotive retail business and Chris was a financial analyst when they developed health problems.
One major change the doctor suggested was eating more wholesome foods. The couple began raising chickens, then ducks and turkeys. As their operation grew, they turned eight acres of land into Paradise Found Farms on Jefferson Road in Tallahassee.
They now provide their free-range eggs and poultry to customers, primarily through the Tallahassee Farmers Market.
All these venues make a difference, Kelly said.
"Knowing where your food comes from, that's the most important thing, and knowing the people who are producing it for you"
Christian and Drew Schmoe with their chickens on Schmoe Farm, a stop on the Farm Tour. Photo / Schmoe Farm
Tips for the Tour
First, read the Farm Tour booklet, which has a thorough guide to all the places you can visit on the tour. Pay close attention to the days and hours the farms are open for visitors and times for workshops and classes. You can download the guide at https://tinyurl.com/2ths262t or check local nurseries or markets for a copy.
For questions, contact [email protected] or call 850-294-3918 .
Don't bring pets but do carry suntan lotion, bug spray, water, a tote bag and cash in case the farm doesn't take credit cards.
Bring a cooler if you intend to buy meat or produce.
Don't feed farm animals without permission.
Here are some pictures from previous Farm Tours and markets. Time for new memories. Thank you to all our wonderful farmers who work so hard and provide us with healthy food.
Check out our gorgeous bounty of fresh vegetables and fruits at the Farm Tour but also weekly at our local farm tours. For more directories, see our directory at https://www.tallahasseetable.com/tallahassees-farmers-markets/
Yoche and Israel Artzi at their Pita Queen stand in Lake Ella. Their Thomasville farm will be open to visitors during the farm tour. Photo credit / Tallahassee Table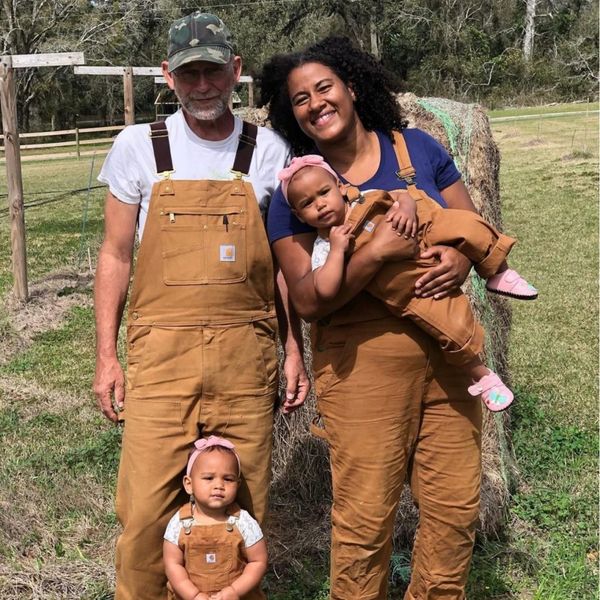 Chris and Kiona Wagner in an earlier pose with their twins at their Monticello Rocky Soil Family Farm, which will be on the 16th Annual Farm Tour. Photo credit / Rocky Soil Farm